Now, lets try a similar experiment with Egon Schiele, who I have less exposure of. Again, I'll start by looking at some images:

The visual tool that Schiele created and that demonstrates his artistic originality, in fact mastery, was his personal line. He also mastered the art of emphasis and omission. More than any other graphic artist, Schiele managed to convey both shapes and emotions with mere drawings, often using nothing but outlines. Without question Schiele as a draughtsman holds a unique position within Expressionism. Nobody else has created lines in such a masterly and expressive way: sharply rigid or supple, constructive or fragile, brittle, nervous, scrawled or tense, intermittent or strident.


Schiele expert Rudolf Leopold,
from https://www.dorotheum.com/blog/en/egon-schiele-radical-draughtsmen/

"Head of a Woman," from the same collection, is an example of how Schiele managed to capture emotions with a few lines, through emphasis and omission.


from https://www.dorotheum.com/blog/en/egon-schiele-radical-draughtsmen/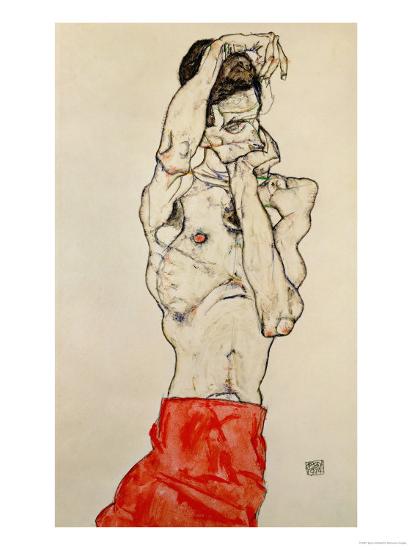 So: His style is based heavily in stylised line drawing that picks out character over pure realistic reproduction. Colour seems to be applied lightly and to emphasise the overall line drawing. Further, he seems to provide very little context in his figurative work, concentrating primarily on the subject(s).
This approach is similar in essence to some of the drawings I was doing in the Landscape section:
In fact, the similarity was something my tutor commented on in my feedback. So, a drawing in this style would need to start with a strong line drawing which showed the subject's character. Then add subtle colour to emphasise the image. Given my challenges with going straight to line drawings I suspect I would need to use a light pencil under drawing. Whether to erase this before applying colour will be an interesting choice to consider.
As with Maggi Hambling I decided to try an initial experiment. I did a light pencil under drawing, then went over it with a dark line and finally added colour. I erased the pencil under drawing once the ink had been applied, as the paper had managed to get quite dirty in the process. I chose to use the Trois Crayon colours on a tan toned paper – as much because I have been using this palette as anything.
There are significant issues in the image – the most obvious one being the head is slightly too small for the body. I've also over used colour to really be consistent with Schiele's style. As an approach, however, it definitely has potential. Possibly the next best experiment would be to try with ink or water colour.
Another area for consideration is how to get more character into the image. Schiele's and Maggi Hambling's styles feel like the sitter's character is shining through. (Along with the artist's style and approach.) In comparison this image is somewhat bland.