Exercise 1 Facial features
Initial practice for the exercise:
Research point: Different ways to approach faces
I'm going to start this research point with a Leonardo piece I've considered before:
As a study this piece this has a lot to recommend it, and it can stand as a proxy for a style of rendering of the head which is based in realism with expression based on what is included. Take, for example, the marks used to represent the hair.
As a contrast to this approach I'll jump to Picasso's Head of a young woman:
Here the elements of the head is drawn from different angles simultaneously, with the features being as much symbolic as representing the model. The expression relates as more to the artist's voice than the features of the model being painted. I find it interesting that Picasso's drawings sometimes started more realistic and became less so with work, as can be observed by following Sylvette in 1954.
Between these extremes I'll jump to Maggi Hambling:
Maggi's images are clearly based in realism, but not the detailed study of the Leonardo images. Her style is more of a blend between expression and realism. I have the impression that this is a portrait, but a lot of expression is included in the artist's selection of what to include. There is, for example, none of the detailed study of shadow seen in the Leonardo piece – though I am left with the impression that the character of the sitter possibly shines through more clearly,
Another interesting approach is that of Egon Schiele: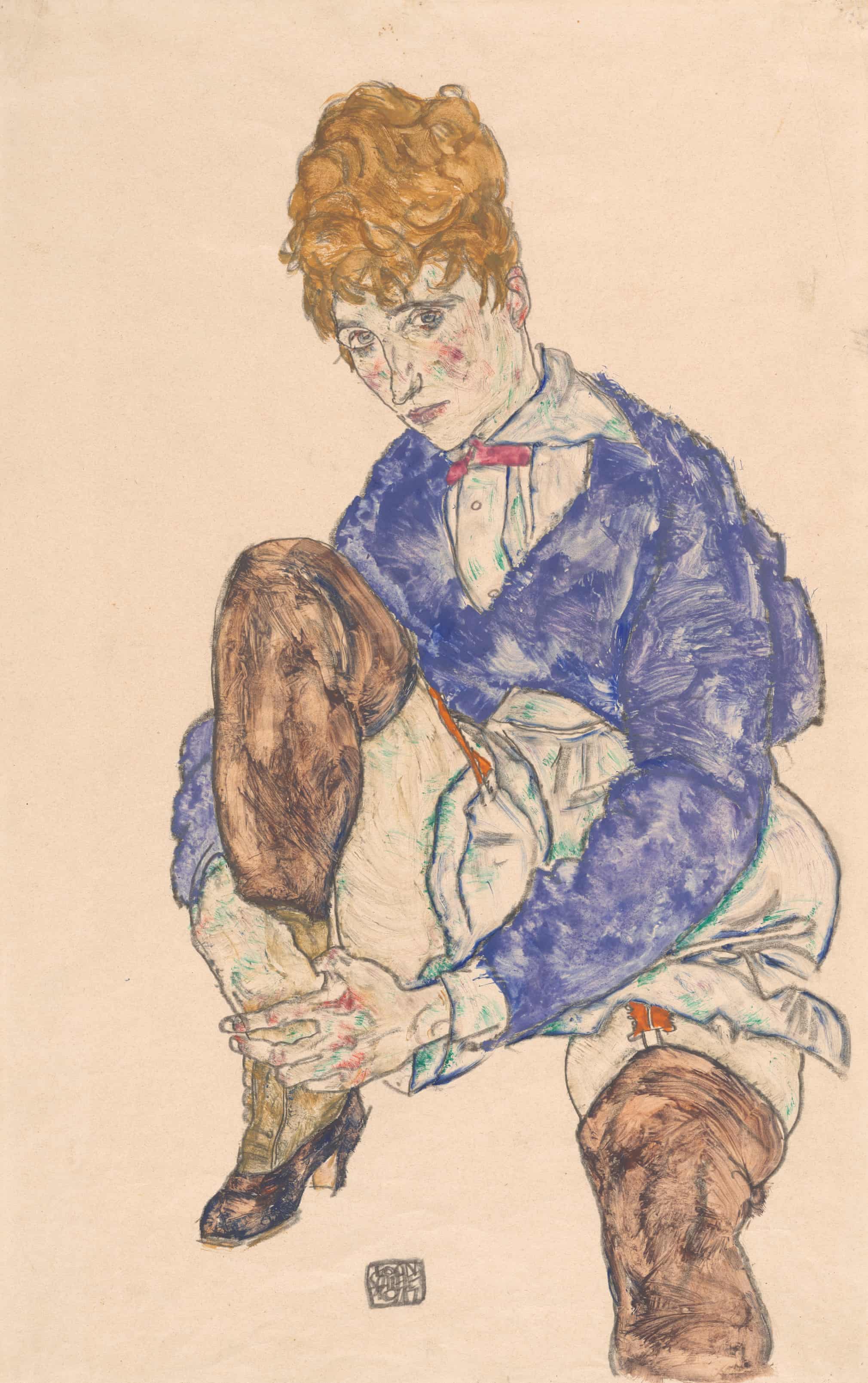 The approach shifts towards stylisation again, but far less so than that of Picasso.
Exercise 2 Your own head
These are my first two attempts:
As well as drawing the head I was using this as an experiment in "Trois crayon" drawing, which is a technique I've seen used by a number of artists previously. This is, in essence, similar to the approach demonstrated by Frank Brangwyn:
My interpretation of the approach is somewhat heavy handed, but I like the way that it is going. Within the second drawing, the major issue is that the eyes a=still aren't right. As I was liking where this is going, however, I decided to try for a more difficult next attempt:
This is somewhat successful, though there is plenty of room for improvement. In particular, the nose doesn't really work and the forehead is too small.The trois crayon on toned paper, however, I'm enjoying an will take forward into other work.
Compared to previous self-portraits it represents positive progress:
Research point: Artist's self portraits
As suggested, I started by looking at Van Gogh – who produced a plethora of self portraits. I particularly like this one. There is a wikipedia article which shows many of his self portraits. Its interesting to compare them over time, as they show changes in his style over a relatively short time period.
The self portraits of Rembrandt have a similar level of interest – though they span a much longer time period. In fact, as a subject artist's self portraits seems to be an active source of articles, including the following interesting ones:
I found Rosso's page of self portraits especially strange. This is one of them:
The self-portraits by Rosso and Tracey Emin both are using the self-portraits to convey a message about themselves, as do many artist's self portraits. This goes beyond the use as a self portrait as a way of showing the artist's abilities to elicit commissions.
Whilst researching self portraits I found the following additional material that was of interest:
Exercise 3 Portrait from memory or the imagination
This is an interesting one. I started with a sketch of a basic idea:
This is based around a common theme seen on the streets of London, but is otherwise imaginary. There are many errors and issues in the way it is constructed, but I like the basic idea. As a follow on I decided to try a Trois Crayon sketch with a focus on the face:
I like the way it is heading. The lips, however, are a fit "fresh". I'd need to find a way to make the look more 'haggard' to really move it forwards in the direction I'd want to go. This could be the subject of quite a lengthy study to really get the look I'd like, however, and so I'll move on for the moment.